The achievements and typical awards that Robot Corporation has gained during the period of establishment and development
In the nearly 30-year journey of establishment and development, Robot Corporation has always accompanied the country's development. Therefore, Robot Corp has been rewarded several certificates of merit, labour orders, and medals by government leading officers and gained various prizes and certificates of brand value, certificates of product standard from economic departments and organizations in Vietnam and Global.

The Second Class Labour Orders, The President rewarded Robot Corporation and Grand President of Robot Corp in 2017

Certificates of Merit of The Prime Minister
Certificate of Asia Pacific Quality Organization
The Product of Robot Electric Wires & Cables is the first in the Electric wires and cables manufacturing Industry that has achieved the certificate of EU Standard - CE Marketing issued by NQA Organization, the UK in 2010.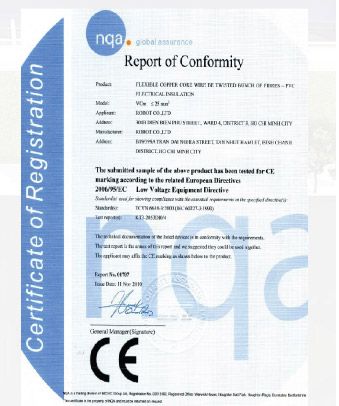 Chứng nhận CE - hợp chuẩn Châu Âu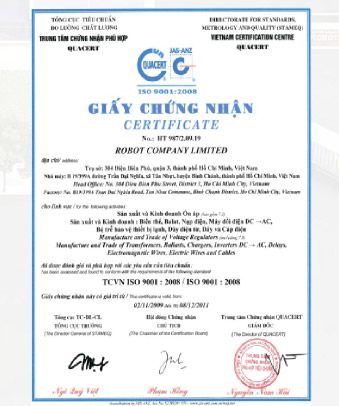 The Certificate of Vietnamese Standart Qualification Management, ISO 9001:2015
From 2008 to now, Robot Branch is proud to become The Vienam Value from 2008 up to now, and our Robot Products has been rewarded the National Quality Golden Prize.

The Certificate of Vietnamese Standart Qualification Management, ISO 9001:2015
Robot products are trusted by consumers and voted as Vietnamese High-Quality Products for many years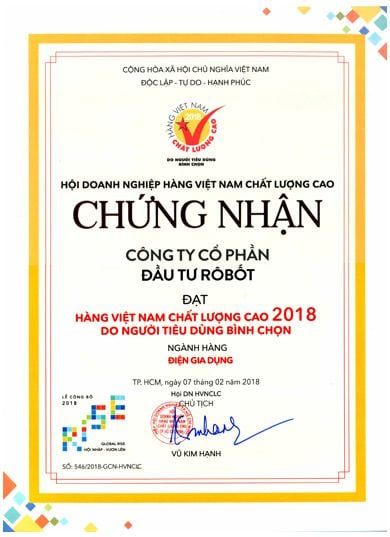 The Certificate of Vietnamese High-Quality Goods Award
In addition to the above awards and certificates, Robot Corp also has been received many other certificates of merit and certification from other departments and organizations