ROBOT WARRANTY POLICY 2020
Note: only applicable throughout the territory of Vietnam
I. ELECTRONIC WARRANTY REGISTRATION
To enjoy warranty benefits, customers need to perform Warranty Registration immediately after installation (or no later than 07 days after purchase).
Warranty Registration in one of three methods below:
Method 1: Scan the QR Code on the Electronic warranty stamp will lead to the Electronic warranty website: www.robot.etrust.com.vn/baohanh => an activation warranty form will appear.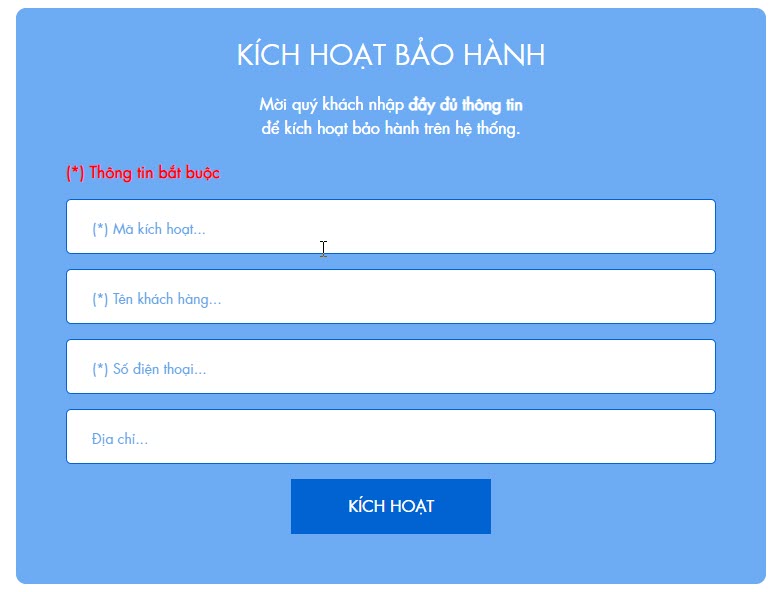 Explanation:
Item [Mã kích hoạt – Activation Code]: fill in 9 characters after scratching the silver coating on the electronic warranty stamp.
Item [Tên khách hàng – Customer Name] [Số điện thoại – Phone Number] [địa chỉ – address]: fill in the personal information of the product buyer.
After filling in all information, click the button [Kích Hoạt – Activate].
Method 2: Compose the SMS with syntax:
Compose ROBOT <space>Activation Code (9 characters after scratching the silver coating on the electronic warranty stamp) => Send to 6020 (1,000 VNĐ/SMS)
Method 3: Access to website www.robot.com.vn and select Menu [ELECTRONIC WARRANTY] => After clicking, follow the procedure in Method 1 above.
II. WARRANTY – RENEWAL PERIOD
1. Warranty and Renewal period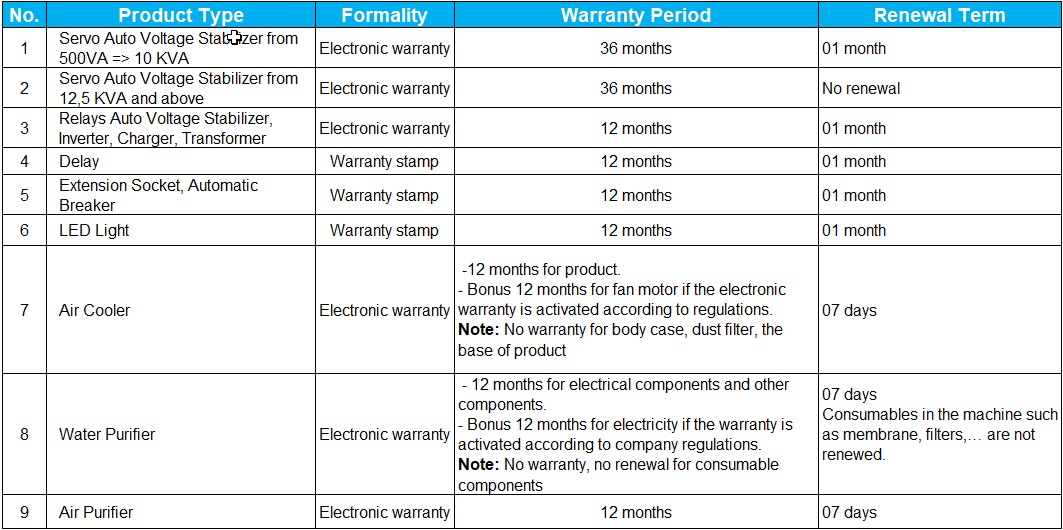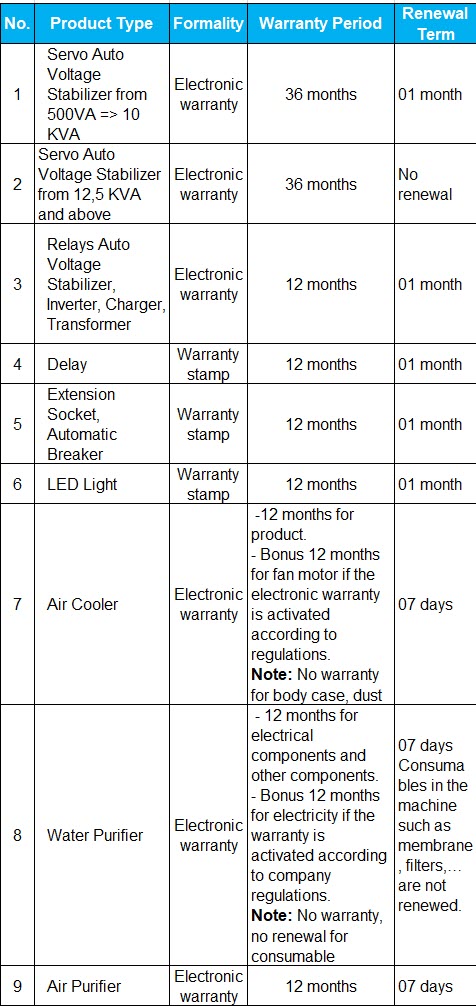 => Please read Warranty Coditions, Product Renewal Rugulations, Product Return Regulations in section IV, V & VI.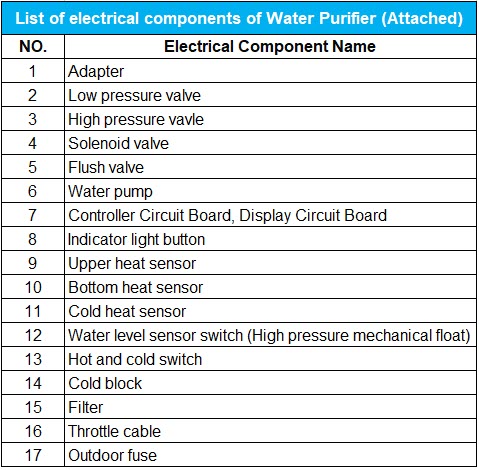 2. Warranty processing time limit (excluding weekends and holidays according to government regulations)
Delta region: Urban Area from 24h to 48h, Rural Area from 24h to 72h, rate of maximum delay processing time does not exceed 10%.

Highlands region: Urban Area from 24h to 72h, Rural Area from 24h to 144h, rate of maximum delay processing time does not exceed 10%.
III. WARRANTY RANGE
Warranty location:
1.1 For Products of Air Cooler, Water Purifier, Hot and Cold Water Purifier: warranted at home nationwide.

1.2 For electrical equipment products, household electrical appliances and others:
Products are sent to Customer Service Center in 3 regions acrross Vietnam
Particularly for Auto Voltage Stabilizer Products from 15KVA and above will be warranted at home within Hanoi, Danang and Hochiminh City. Or depending on the Contract Agreement (if any) for large capacity products.
Warranted product range:
Applicable to all products that are officially imported, assembled, manufactured and distributed by Robot Investment Corporation or products branded Robot owned in Vietnam market.
IV. WARRANTY CONDITIONS
Free warranty
Apply products that are still in the Free Warranty Period when the following conditions are met:
Products are damage by technical error, not by external impacts, wet, falling, using in inappropriate environment, natural disaster,… or change the basic information of the product.

Products manufactured, processed, assembled, or imported under ROBOT Tradmark or owned by Robot Investment Corporation are distributed in Vietnam market.

Products are still in the Warranty Period according to the warranty terms in Section II WARRANTY – RENEWAL PERIOD.

Products are registered for warranty on the electronic waranty activation information system or the methods of confirming the valid purchase date/purchase invoice, receipt that match the model name and serial number on the product and warranty card (if any).

Must use and preserve according to the electricity industry's guidelines and regulations, the right capacity and voltage.

Warranty stamps (machine seals) & control stamps (stamps on products) are in original condition. There is no sign of erasing or tearing off.

Products are used for the right purposes, functions and in a manner appropriate to the manufacturer's instructions.

Damages, product defects are assessed and concluded as results of damage, component errors, technical errors from the manufacturer.

Presenting the warranty card intact (for products applicable to the warranty card), fully filling in the required content information, the machines do not have full information will be based on the date of manufacture printed on the machine.
Cases of no warranty or chargeable warranty
Products are not genuine ROBOT Brand and other products without the trademark owned by ROBOT.

Customers do not activate the Warranty Registration as prescribed (Section I. ELECTRONIC WARRANTY REGISTRATION) & no documents to prove purchase date (purchase receipt or invoice, offer of the seller).

Expiry of Free Warranty Period as prescribed by the manufacturer.

Products do not qualify for a Free Warranty & Renewal.

Consumable spare parts and components such as membrane, filter, other components,…

Products are damaged by improper installation, wrong storage, using for improper purposes or not following the instructions attached to products.

Products are damaged by natural disasters, fires, floods, lightning strikes, environmental wear and tear.

Products are damaged by insect infestation (mice, cockroaches, ants, termites,…).

Products are warped, carcked, broken, damaged due to falling, pouring during transportation, use.

Products are damaged due to an ustable power source, fluctuating beyong the permissible capacity: 220V ± 10V, or arbitrarily replacing/designing inappropriate power cord.

Products are damaged by arbitrary repair, change of product structure withou permission or supervision by ROBOT's Technician.

Products do not have seal, or erased, indication of product opening in the first warranty.

Any damage related to the use of non-genuine ROBOT components such as filter, membrane.

Rust, fade, or natural wear and tear of components over time using.


After repairing, the product will be warranted for a period of 3 months
V. REGULATIONS OF PRODUCT RENEWALS
For unused products
Customers can change the product to another model if the product is not yet installed, unused and verified by Robot's technicians. The new product must have a value equal to or higher than the value of changed products.

The time applied for changing unused products: within 07 days.
For used products
Customers are supported to change products of the same type when encountering irreparable problems (due to the technical error from manufacturer). Product can only be changed after confirmation from Robot's technicians and comply with the following conditions:




+ Products identified as genuine ROBOT Brand (evidence of purchase invoice or receipt, identification stamp and electronic warranty registration).




+ Products are intact sealed, warranty stamp of the manufacturer and full accessories, warranty card (if any),… as the original.




+ Returned goods must have without any form of defects (dented, scratched, stained, broken,…)




+ For Water Purifier Products: consumables such as membrane, filter,… are not renewed.
Application period for changing used products:




+ Within 07 days for Water Purifiers, Air Coolers, Air Purifiers.




+ Refer to Section II. WARRANTY – RENEWAL PERIOD.
Exceed the prescribed time to renewal products
When arises the cases related to renewal product but exceed the prescribed time limit in the above sections, Customers will be returned products in accordance with the provisions of Section V – REGULATIONS OF PRODUCT RETURNS.
Unacceptable cases of returning products
Customers want to change models and categories without notice.

Customers use, operate improperly in accordance with the manufacturer's instructions, causing damage to the product.

Customers do not comply with the requirements as required to enjoy warranty policy such as: no electronic warranty registration, no purchase receipts/invoices,…

Customers self-cause external damage such as peeling, breaking, changing the shape and structure of the product's operating principles…

The goods have been signed to certify "Quality" by Customers, but then Customers request to return the goods with the wrong reason: scratches, yellowing, dents,…
VI. REGULATIONS OF PRODUCT RETURNS
Products are in the warranty period specified in Section WARRANTY PERIOD and sastisfy the free warranty conditions specified in Section IV. WARRANTY CONDITIONS.

Products have expired the time of product renewal as specified in Section REGULATIONS OF PRODUCT RENEWALS.

Products are still warranted but repaired 3 times or more within 1 month but still not fix the product error.

Depending on the actual condition of the used product to be returned, the parties will jointly evaluate the status of the product, negotiate the residual value after the depreciation of the product, as a basis for changing other products.
In case of changing the product with the value equivalent to the remaining value after the depreciation of the changed product, the parties will not compensate for the difference.

In case of changing products with difference value, the parties will agree on the difference between the value of the newly replaced product and the defective product that one party needs to pay back to the other at the time of product change.
All sprare parts, components and accessories or defective, damaged and replaced products under the warranty policy will become the property of Robot Investment Corporation.

The warranty period for changed product will be continued.
VII. WARRANTY LOCATION
All ROBOT products will be warranted at Customer Service Centers:
Southern Service Center: 112A Cach Mang Thang Tam Street, Ward 7, District 3, Hochiminh City

Central Service Center: 81C – 81D, Hoang Van Thai Street, Lien Chieu District, Danang

Northern Service Center: 81 Duc Giang Street, Duc Giang Ward, Long Bien District, Hanoi
Or warranty stations established or authorized by Robot Investment Corporation nationwide.
VIII. CONTACT INFORMATION
Please contact us for advice service, technical assistance, product warranty.
Hotline 1900 6367 52
CUSTOMER SERVICE CENTER – ROBOT INVESTMENT CORPORATION
[en] Nhận những bài viết khoa học và chất lượng về nước, sức khoẻ, đời sống hàng tuần từ kênh chia sẻ của Robot