1 Robot - Establishment and Development History
Robot Investment Corporation was established in 1990, starting from a small producing business named the founder "Phuong Nam Electric Cable Production Workshop" with Magnetic Wires and Cables are the main staples.
1990: Foundation of Phuong Nam Electric Cable Production Workshop
1998: Transformed into Phuong Dong Dong Tien private enterprise. Expanding the scale of production with the brand new product is a Robot stabilizer.
2000: Building the Plant No.1, open a new branch in Northern Vietnam, apply ISO 9100 system.
2002: Become Robot Ltd, Co.
2004: Open a new branch in the Central of Vietnam. Widen electric cable production
2010: Succeed in transforming into Robot Investment Corporation.
2012: Building the Plant No.2 and Robot Tower at the center in Ho Chi Minh City
2015: Research and Develop new products: LED Light, Construction devices (flush-mounted, circuit breaker, wall switch sockets,...)
Going through the more than 25-year journey, along with the development of the country. Nowadays, Robot Corp is proud to have gathered over 400 enthusiastic and creative staffs at work. Starting from a small and individual business, Robot Corp has invested in a system of two factories located in Binh Chanh District, Ho Chi Minh City with the modern production line and international standard and quality management system and with the experienced operation technician team.

With the Slogan "Robot - Electrical Safety", We always aim to research and develop new and highest safety consumer electronic devices in order that customers can be assured and trusted. Up to now, Robot Corp has launched various prestigious products with outstanding features under Robot Brand such as: Voltage Stabilizers, Transformers, Industrial and civil cables, power sockets with pure and durable copper. In addition, Robot Corp also provides electrical equipment for building projects like flush-mounted, wall switches and sockets, surface boxes, LED lights and automatic circuit breakers,... These products have been trusted and voted as Vietnamese High-Quality Goods by customers for many years.
Thanks to the advantages of experience in manufacturing electrical equipment. In 2018, Robot Corp has strongly introduced the new Air Cooler Products with a variety of designs, power capacities and features, suitable for various requirements of customers. In the upcoming strategy, Robot Corp will constantly improve the quality of products, diversify new products, that bring more convenience and comfort to customers.

With the Head Office located in the center of District 3, Ho Chi Minh City and 2 representative offices in Ha Noi and Da Nang, Robot Corp has expanded the distribution system and Service Centers throughout the nation with more than 2,000 sales agencies and retail shops, that bring quality products to everywhere in Viet Nam. Besides, Robot products have also been exported to many other countries and territories over the world.

2 Cultural Company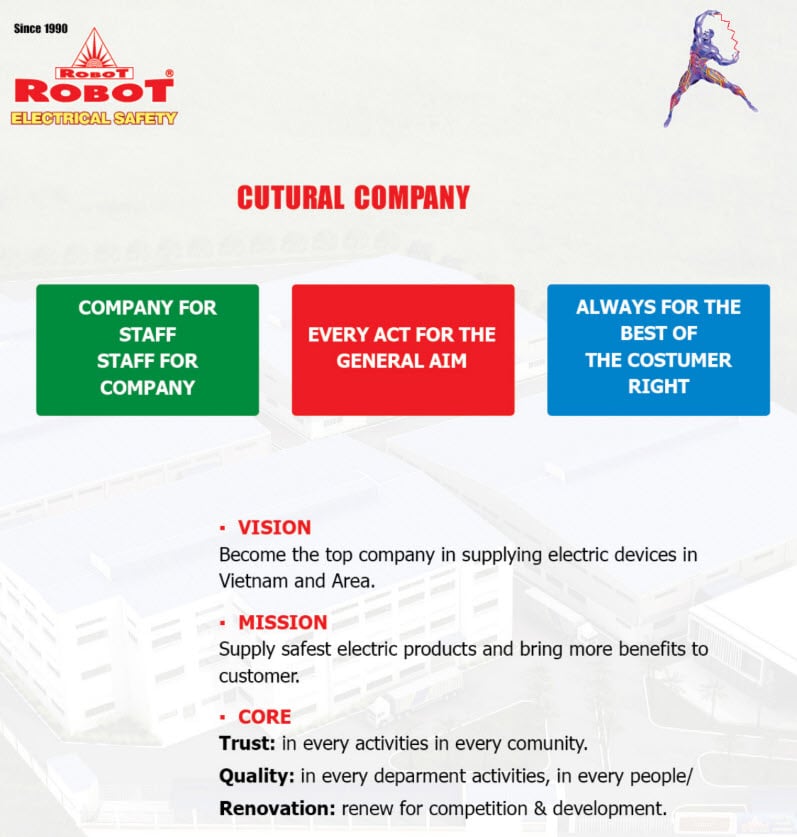 3 Achievements and Awards

As a recognition of the company's persistent effort for many years, Robot's Products have been trusted and voted as Vietnamese High-Quality Goods for 20 years. Robot Brand has been rewarded Vietnam Value Prize and National Quality Golden Prize since 2008. And Robot is the first brand in electronic equipment manufacturing and assembling industry won the "Certificate of Asia Pacific Quality Organization". Robot Corp has been also awarded the "Second Class Labour Order" by the President and many other certificates of merit from the Prime Minister, state agencies and departments. Read more for details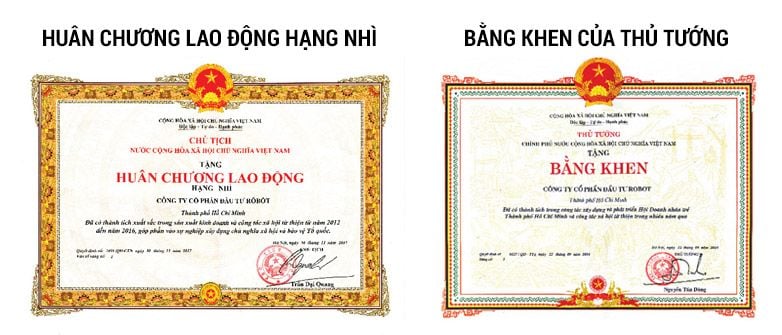 Contact
Head Office (Ho Chi Minh City)
Address: Robot Tower 308 - 308C Dien Bien Phu Street, Ward 4, District 3, Ho Chi Minh City

Telephone: (+8428) 3930 7479

Fax: (+8428) 3930 747

Robot Southern (Ho Chi Minh City)
Robot Central (Da Nang)
Address: 81C - 81D Hoang Van Thai Street, Lien Chieu District, Da Nang

Telephone: (+84236) 364 3340

Fax: (+84236) 364 3339

Email: infomt@rogen.com.vn
Robot Northern (Ha Noi)
Address: Alley 81 Duc Giang Street, Duc Giang Ward, Long Bien District, Ha Noi

Telephone: (+8424) 3932 5503

Fax: (+8428) 3932 5498

Email: infomb@rogen.com.vn
Plant System:
Plant No.1: B19/399A Tran Dai Nghia Street, Binh Chanh District, Ho Chi Minh City.

Plant No.2: A7/17V Tran Dai Nghia Street, Binh Chanh District, Ho Chi Minh City