Robot R.O 8-Stage Water Purifier Alpha 138G
SKU:

A138G
The reasons should choose ROBOT R.O Water Purifier Alpha 138G
ROBOT Multifunctional Water Purifier Model Alpha 138G is a new generation of No Cabinet Water Purifiers, ROBOT's unique innovative design in 2020 compared to the older generation models on the market.

Providing optimal solutions: SAFETY – FACILITIES - ECONOMY
Using ROBOT Multifunctional Water Purifier, in addition to providing a safe source of safe drinking water, supplementing minerals more beneficial to health, it also brings extremely CONVENIENCE because it does not take effort to change the bottle, no take up storage space & SAVE big on the cost of buying a 20 liter water bottle, or do not waste electricity & time when having to boil tap water to drink.
1. Outstanding advantages of ROBOT R.O Water Purifier Alpha 138G
Alpha 138G is better than any other water purifier on the market is equipped with Multifunctional LCD Microcontroller, exclusively designed by ROBOT.
With the motto to help people use water purifiers "must control the quality of water and absolutely safe for health". Technology Development Center of Robot Investment Corporation with experts, engineers over 20 years of experience in the Electrical - Electronics industry have researched and successfully designed the Multifunctional LCD Microcontroller, with many preeminent features, meeting the practical needs of customers read here.
Ensure the operation of the whole system is controlled accurately by the microcontroller, detailed reports on the LCD screen, help users easily control water quality directly before and after filtering, ensure health safety when using.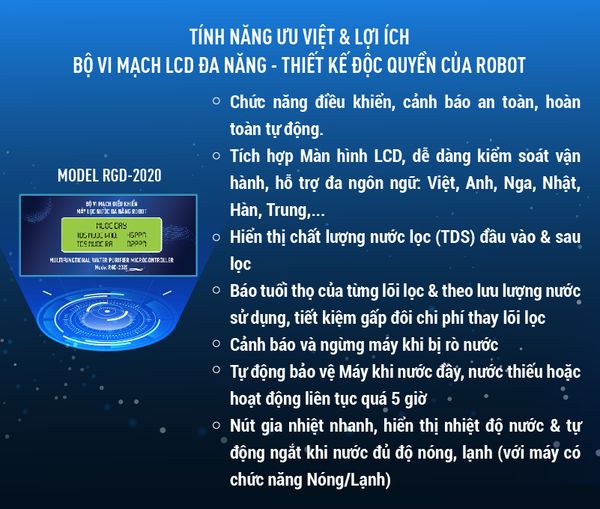 Superior Multifunctional LCD Microcontroller, ROBOT's exclusive design
Compact design, easy to install: has a convenient stand for installation, no need to drill into the kitchen, has been produced & finished quality control at ROBOT Factory, simple installation, only in 3 steps, connection of water inlet & wastewater, faucet fitting and plugging in is usable (attached User Mannual & Installation).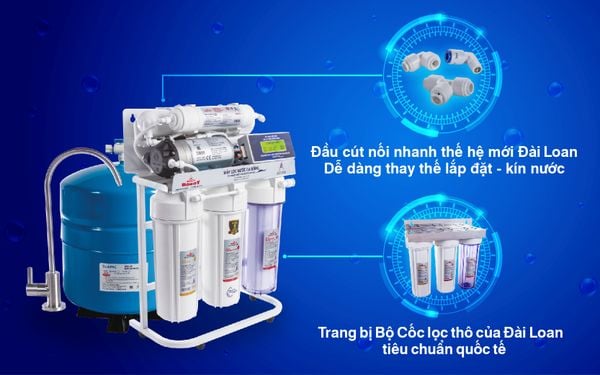 2. R.O Water Purifier No Cabinet Alpha 138G with powerful 8-stage purification system
Provide safe pure water & better for health
ROBOT Multifunctional Water Purifier Model Alpha 138G applies reverse osmosis technology.
Designed to 8 stages of purification, including:
3 pre-filter stages: completely remove toxic substances from the process of disinfection, color removal, chlorine, organic matter, residues, solids, slime, rust,… with the size is less than 1 micron in water & deodorize, create a natural taste for water.

O Membrane: has the ability to remove 99.99% Amoeba, Arsenic, Styrene, heavy metal ions, viruses, bacteria andother impurities that harm the body & give pure water, safe for health.

Integrated 4 additional functional filters: Maifan Stone, TCR, Carbon and Nano Silver will deodorize, fight re-decontamination, create a natural taste of water, stabilize pH & replenish minerals Ca, K, Na,… beneficial to the body.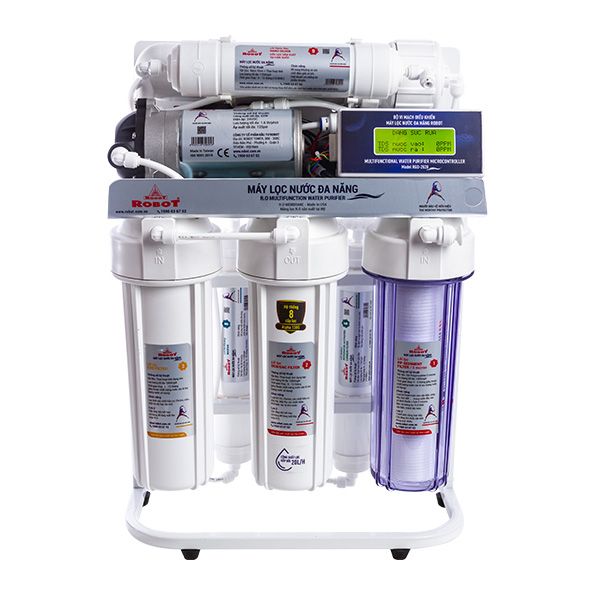 8-stage purification system – integrated Multifunctional LCD Microcontroller ROBOT's exclusive design
R.O Membrane 75GPD (JAPAN), capacity up to 15 liters/hour, 1.5 times higher than conventional membranes
The heart of the water purifier lies in the R.O membrane, ROBOT equips R.O membrane for Alpha 138G with a capacity of 15 liters/hour (75GPD) made in Japan, NSF international standard certification (**), ensure absolute water quality after filtering to safety standards for health, well researched to suit any water sourrces, increase purification performance, reduce the amount of wastewater & more durable than conventional other membranes.
R.O Membrane (JAPAN) with the capacity up to 15 liters/hour
ROBOT Multifunctional Water Purifier Alpha 138G with 8 powerful purification stages:
R.O membrane

Remove 99.99% of bacteria, viruses, styrene, solids, heavy metals to produce completely pure water after filtration.

PP Sediment Filter/5 microns Filter

Completely remove dirt, suspended particles such as mud and algae with the size larger than 5 microns.

Protect R.O membrane from dirt, avoid clogging.

OCB/GAC Filter

Remove chlorin, toxic organic substances, absorb slime.

Deodorize, create tasted for water.

CTO Filter

(or PP 1 micron Filter)

Refine organic substances, chlorine, colors, odor and solid particles as small as 1 micron.

Integrated Activated Carbon Filter

Stabilize the sweet, natural taste of water.

Partially balance pH.

Maifan Mineral Stone Filter

Supplement a part of natural minerals like Calcium, Iron, Magnesium,…

TCR Filter

Deodorize and eliminate organic substances, make the water have a naturally cool sweet taste.

Nano Silver Filter

Supplement minerals and electrolytes useful for the body.

Bactericidal and prevent re-infection.
3. Certification of national and international quality standards
ROBOT R.O Water Purifier manufactured on modern technology production line & quality management system certified to international standards ISO 9001:2015, the product is certified to national standards TCVN 11978:2017 & QCVN 4-2009/BKHCN on water purifiers for families by the Ministry of Science and Technology Vietnam.
The quality of filtered water meets direct drinking water standards, QCVN 6-1:2010/BYT of the Ministry of Health Vietnam, including 21 physicochemical toxic indicators such as Arsenic, Ammonium, Lead, Cyanide, Mercury, Copper, Nitrate,… and 5 microbiological criteria: E.coli, Coliform, Streptococci feacal, Pseudomonas aeruginosa, Sulfite anaerobic bacterial spores, ensure absolute safety for users' health when taken directly without boiling (*).
To ensure high quality products, durability & absolute safety for customers. ROBOT Water Purifier uses high quality specialized water filtration components, diverse disigns to meet all needs (see product details), such as ROBOT genuine R.O Membrane made in Japan or the US, the main components such as quick connector, plumbing, bosster pump, pressure tank, solenoid valve, housing filters, filter elements, UF membrane,… made in Korea, Taiwan,… according to NSF international standards (**)/ANSI, CE, SGS…
(*)The Water samples after filtration are taken according to aseptic technical process & quality control meets the standard of Direct Drinking Water (QCVN 6-1:2010/BYT Ministry of Health Vietnam)
(**) NSF stands for the National Sanitation Foundation – the water and food safety cooperation center of World Health Organization (WHO).
Read more for our quality certifications
Drinking Water Cost (unit: liter)
Note: reference cost in the Vietnamese market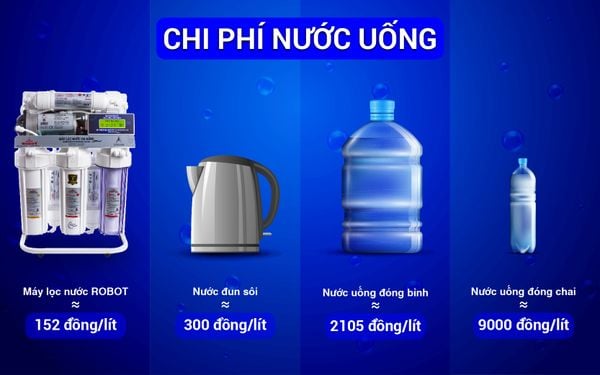 Cost for 20 liters of water
TECHNICAL SPECFICATIONS
Function: purifying normal water

Type: no cabinet (undersink)

Purification stage number: 8 stages

Membrane type: R.O membrane (Japan)

Purification capacity: 15 liters/hour (75GPD)

Rated voltage/Frequency: 220V/ 50 - 60Hz

Standby power capacity: 4.5W

Operation power capacity: 28W

Standard water inlet temperature: <40oC

Water inlet quality (QCVN 02:2009/BYT): tap water, treated drill well water

Standard machine quality: TCVN 11978:2017

Filtered water quality (*): QCVN 6-1:2010/BYT

Color: white

Dimension: 200 x 360 x 620 mm

Product set includes:


+ 8-stage water purifier
+ LCD Microcontroller – model RGD-2020, exclusive design of ROBOT
+ Full set of 3-stage raw housing filter (Taiwan)
+ Booster pump (Taiwan)
+ Quick connectors, water pipes (Taiwan)
+ 18-liter pressure tank (Taiwan)
+ Premium 304 stainless steel faucet
Made in Vietnam
Product and company information read more
Vietnam Value Award, trusted for 30 years, certified national & international quality standard
During 30 years of establishment and development, ROBOT has always maintained the position as the leading brand in the manufacturing of electrical and electronic equipment in Vietnam, has exported to more than 20 countries, always ensure ELECTRICAL SAFETY criteria.

ROBOT was recognized as Vietnam Value Award 2008, Golden National Quality Award 2009, Global Performance Excellence Award 2011, was awarded the 2nd class Labor Medal by the President of 2017. ROBOT is also the first unit in the industry to achieve CE Marking Certification (European Standard) for Electric Cables in 2010.

From the solid foundation as a leading enterprise in the fiel of electrical and electronic equipment manufacturing, after years of research investment, with the goal of improving and intergrationg new modern technology in the world for water filtration industry, ROBOT is honored to offer customers our new product – ROBOT Multifunctional Water Purifier with the most perfect design in 2020, many outstanding advantages, providing solution SAFETY – COMFORT – ECONOMIC, more than imported water purifiers.

ROBOT today s an integration of ELECTRICAL SAFETY & HEALTH SAFETY, further affirming ROBOT – THE WORTHY PROCTECTOR of our customers.
Warranty Policy
Electrical components: 24 months

Pressure tank and faucet: 12 months
Note: There is no warranty for consumable parts
Attentive and fast customer service
Read detailed product warranty policy here
OFFERS WHEN PURCHASING ROBOT MULTIFUNCTIONAL WATER PURIFIER
Contact our hotline 1900 636752 (or +84.28 3933 3456) for advice on promotions that are being applied to the product.

TECHNICAL SPECFICATIONS
Function: purifying normal water

Type: no cabinet (undersink)

Purification stage number: 8 stages

Membrane type: R.O membrane (Japan)

Purification capacity: 15 liters/hour (75GPD)

Rated voltage/Frequency: 220V/ 50 - 60Hz

Standby power capacity: 4.5W

Operation power capacity: 28W

Standard water inlet temperature: <40oC

Water inlet quality (QCVN 02:2009/BYT): tap water, treated drill well water

Standard machine quality: TCVN 11978:2017

Filtered water quality (*): QCVN 6-1:2010/BYT

Color: white

Dimension: 200 x 360 x 620 mm

Product set includes:


+ 8-stage water purifier
+ LCD Microcontroller – model RGD-2020, exclusive design of ROBOT
+ Full set of 3-stage raw housing filter (Taiwan)
+ Booster pump (Taiwan)
+ Quick connectors, water pipes (Taiwan)
+ 18-liter pressure tank (Taiwan)
+ Premium 304 stainless steel faucet
Made in Vietnam
Warranty Policy
Electrical components: 24 months

Pressure tank and faucet: 12 months
Note: There is no warranty for consumable parts
Attentive and fast customer service